[REC] Discussion round about: Ethical Decision Making at Future-IoT 3rd edition: "IoT meets Security" (2020-10-07)
The discussion covered another very important topic: ethics.
Marc-Oliver Pahl introduced this session for complementing and completing the other aspects of security covered in the PhD school. After a short motivation, we watched a 30 minutes keynote given by Turing Award winner and security expert Martin Hellmann. He talked about "Ethical Decision Making". In this keynote, Martin wonderfully illustrated how ethical decision making became more and more important in his life, and how he manages it. Following the talk, we had a lively and very interesting discussion in the group on ethical aspects of our concrete works, and the informatics profession in general. One conclusion was that we consider it super important to cover ethical aspects in education, and that we would love to see it even more represented as a mandatory element in the curricula!
This discussion happened at the 3rd edition of the Future IoT PhD school series 2020 under the motto "IoT meets Security". Future-IoT 2020 introduces to the fascinating world of the Industrial Internet of Things (IoT) and its security challenges.
Future-IoT 2020:
IoT meets Security recordings:
* Trailer
Monday, Oct 5, 2020 – The Who is Who of IoT Security
Tuesday, Oct 6, 2020 – Innovation, transitions, reliability, and experimentation
Wednesday, Oct 7, 2020 – IoT, OT, you, and the ethics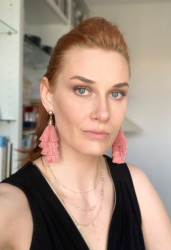 Latest posts by Olivia Pahl
(see all)