Future-IoT logo meets security
We had a lot of fun creating the logo for this year's summer school on "IoT meets security". We hope you like the result!
The basis of the logo is a padlock. It stands for security. The padlock contains the IoT. The "I" is an antenna. It stands for the wireless communication that is often found in the IoT. The "o" spans a network of a camera, a loudspeaker, and an embedded system.
The camera represents IoT sensors, the loudspeaker represents IoT actuators, the embedded system represents the software-controlled management of modern IoT systems. The "T" forms a robot arm. It is another actuator that connects the IoT system with its physical surrounding.
The whole IoT is perfectly safe inside the padlock. However, it is not isolated but in contact with the outside world. The radio waves express this. This symbol is probably best-known from the WIFI symbol.
The three stars on top of the logo stand for the 3rd edition of the summer school, and for a triple star security. As an insider-joke, they are also a reminder on a funny initiative about certified-security from friends at TU München that you can find here.
FREE LIVE STREAM:
OR JOIN US IN PERSON ON OCT. 5. – 9.: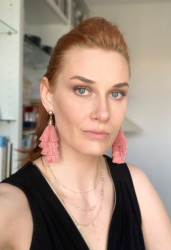 Latest posts by Olivia Pahl
(see all)